I took 2 days off just to make sure my process to get the car out from the police station and insurance claim run smoothly. Lucky for me I could adjust my days off with my boss and had everything covered by my team members. Nevertheless, I could work from home since most of my work involves stuff using the computer.
So, what did happened the past 2 days? A very good question to answer. Let's rewind back to the day after I did the police report at Balai Polis Jinjang. After my police report was printed out, a sergeant from the Balai Polis Sentul called me and asked me if I could arrange for the car to be sent to the his place (Balai Polis Sentul). I replied, I could find a tow truck and send the car as requested. I don't really know any tow truck so I called
AAM
(I'm a member since 2002) and they said they don't do towing for cars that involve police & insurance case. So, they refered me a panel agent. So, I called the man and luckily he was a nice and calm man and he said he could arrange everything. I was so relief after that.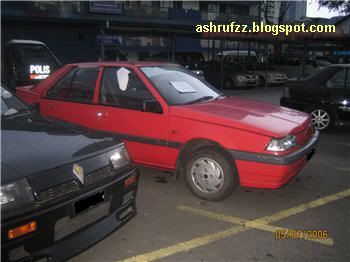 The car was towed to Sentul and parked inside the police station. The nice sergeant processed my case and said that this could take some time and asked me to go home and come back in the morning. He said that at night the finger print and pictures are hard to see so they'll look for it in the morning.
The next morning, I went back. The sergeant then brought his colleague (the photographer) and took pictures of my car. He then said nicely to me to go home since this case is rather unusual and they'll look into it in in depth. I went back home and waited while doing my stuff online. At 4pm, I called the photographer (since the sergeant asked him to be in charge of my case) and he said the process is done so I could now proceed to get my car out to the workshop. He also explained that he didn't find any fingerprints in the car, which means that the culprits are professionals using gloves to cover up their act. The process explained the officer would probably take no less than 2-3 hours. I hardly believe that because it could take less time if done by 2-3 person.
I went to the police station and met with my appointed agent for
AAM
. He said that after the
adjuster
from the insurance company had taken pictures and process the case, the car will be towed out. I thought that would have been a quick process but then, the agent told me that I would have to come back again the next day to the office and bring along the necessary documents. The necessary document would be:
Car registration (I had to go the bank and ask for a copy)
Insurance cover note (mine was at the car dealer where I bought)
A copy driving license
A copy of my IC
A copy of my Hire & Purchase Agreement (I bought this car using a loan)
I got all of this done and the next day, I sent all this document to the office where my agent is from. My agent was at the police station when I arrived at the office. After submitting all the documents, I then waited for my agent. I waited for half an hour before one of the office assistant call me and asked me if I had called the insurance company and let them know about the situation. I then said, "I haven't called them up yet. I thought you were the one who was suppose to take care them for me". So, they called my insurance company and let them know. I wonder why was I supposed to call since it would have took me a long process to find the right person and stuff. I know how to deal with this type of calls because of my job but imagine if a shy person doing it. It wouldn't be a pleasant thing to do plus it is too time consuming.
After that, I was told that the 'adjuster' would call me before they could evaluate my car in order to get my car out of the police compound. I went back home and waited for the call. The adjuster never called, instead my agent called and told me to surrender the keys so that the car can be towed away. So, I sent my keys but I couldn't find my agent, only the tow truck operator was there. I called up my agent and asked about the process, my agent replied and said that the
insurance adjuster
will evaluate my car at their workshop (located somewhere in Wangsa Maju). He should have told me that earlier instead of making me confused. He said the facilities is well guarded with CCTV and limited access, so I can be rest assured over my car's safety. So, now I only have to wait and see what will happen next. It's a very long process though.
I was fortunate enough I could settle my documents fast because I borrowed my father's car (he was away from the country at the moment) and I could be there on time and could take a leave. Imagine if I'm caught up in some kind of project or meeting, that would have been a nightmare to juggle through. I just hope my car would be settled quickly.