I've never heard of
Oracle Corporation
until last year when I was learning about databases. I keep asking myself, why didn't I know about them before. Anyhow, I'm glad I do know about it now rather than later. Oracle creates database application for business critical enterprise level solutions. They have all sort of software and solutions that I can't really remember what they call them except for the one product that I'm currently in charge over an IT project.
Oracle Malaysia
held a
technology summit
at Sunway Convention Centre, Sunway Pyramid. They wanted to model what they've experienced at
San Francisco Oracle OpenWorld 2005
. Unfortunately, it didn't happen probably because the lack of participation. Unlike Microsoft where everybody knows and use it all the time, Oracle isn't your daily application you are using. Heck, I don't even know how Oracle software look like except for yesterday of course. One attendant who asked one of speakers during a Q&A session said, he would stay away from Oracle as they are very expensive. No wonder the crowd weren't as many as I attended
Microsoft Office Day Out
at the same venue.
As usual, I don't like my blog to just be some text based page. I like to add variety to it by spicing up some photos, even if the photos are not attractive. I'll fill in the details along the way:
A banner of Oracle. I like their simplicity branding.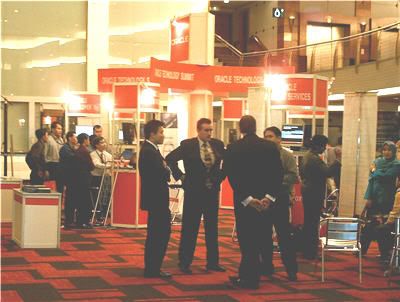 Their booth got 4 different section. Most visitor went to the lucky draw wheel spin to get their free gift. I like the 10g database product because the person who occupies the booth is a very informative person. I guess he reads a lot and knows a lot about Oracle, he is a very good salesman.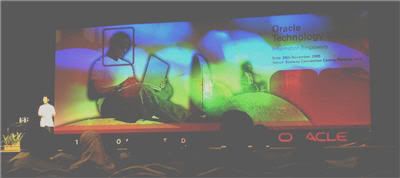 This is the 3rd speaker presenting his presentation. He is from Intel. Unlike the 2 earlier speakers, I like his presentation style since it contains a lot of the latest information. He told the crowd about Intel business and technology path toward the future. Do you know that Pentium-D is a dual core microprocessor? I just learned that during his presentation. I think I'll go to his presentation again some other time.
So, attending these technology events without a degree in IT is not making a good impression when I'm networking socially. I think I'll pursue my IT degree next year.