Friday, January 26, 2007
Last Tuesday, I took half a day off from my job and accompanied my girlfriend to buy a new laptop for her. She just got her PTPTN loan money and wanted to trade off her PC to her brother who tagged along with a brand new laptop. Being a student, we decided a minimum budget of RM2000 with another RM200 extra just in case. The best place to hunt for computer hardware is definitely at Low Yatt Plaza in Bukit Bintang, Kuala Lumpur.
This blog
explains best about the famous IT place in KL. Check out:
IT Pasar Borong
.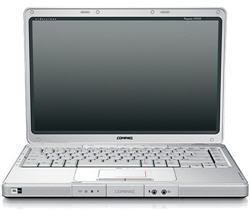 I decided to hunt for the laptop on a weekday because the place will be overflowed with people during the weekend and it's kind of hectic and unpleasant. Arriving there at 3pm, we started the laptop hunt on the 4th floor instead of the 3rd since the floor is less crowded. We walked into a store and my eyes were glued on a white HP Compaq Presario. The price of the laptop was within our range and what I like about the laptop was the built-in Altec Lansing speaker. I was almost sold just by the look of the laptop.
Lucky my my girlfriend snapped me out of it and insisted to do more price hunting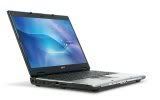 instead of drooling over the look of a white shiny laptop. So, we surveyed a few other laptop before walking out of the store. I happened to like a 15" Acer laptop. It look just about the same as the image here.
We finally settled at a booth with a smooth talking laptop salesman. I had a couple of good laughs just by listening to what he was saying. Being a tech junky, I always think about what I can maximize without overbudgeting. So, when the salesman showed me an Acer Aspire 3683 that has a 100GB of hard drive, it was a great bargain. Apart from that, the salesman bundled together a few free gifts. The gift wasn't so attractive if you ask me but still good enough, however when the guy showed a cartoon shape pendrive, my girlfriend was already sold. The total price paid for the new laptop was RM2046. This was what we got: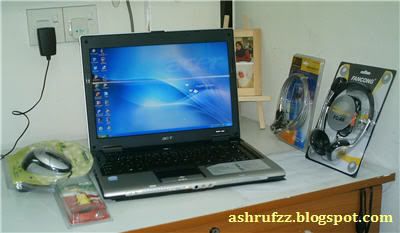 Here are the specs of the Acer Aspire 3683 that we bought:
Intel Centrino Celeron M 1.6 MHz processor
512MB DDR2 RAM
100GB Hard Disk Drive
DVD + CDRW Combo

14.1" Wide Screen
WiFi and LAN capabilities

Free gifts:
An optical mouse
A headphone with microphone
A laptop key lock
A cartoon shape 512MB Pendrive

The reason it cheap because the processor is a Celeron M. A Celeron M is a cheaper version of Pentium M, however I don't think it is a major disadvantage. You'll probably feel a slight slower loading when opening up big applications such as AutoCAD or Adobe Photoshop CS2. It will get the job done and if you are a bootstrapper like me, I don't really mind about waiting a couple of milisecond. You probably wasting more time watching TV than opening up a useful computer application. In my opinion, this is an ideal laptop for a university student. I wish I had one when I was still a student.
I did some testing at a WiFi hotspot place and found out that the laptop is working perfectly well. As for heat issues, I think my
Dell Inspiron 630m
is way much hotter than the Acer Aspire 3683. Being cheaper RM1200 than my Dell laptop with an additional 20GB of hard disk space, this was definitely a good deal.
Labels: tech shopping
posted by Encik Ash at 1/26/2007 10:29:00 pm


|