Wednesday, December 06, 2006
In my previous post, I've have written about
Xpress Cash by CIMB Bank
. Yesterday, while browsing through The Star newspaper, I've spotted another one of these no hassle Micro Credit Loan by another financial institution called Aeon Fast Cash. Here's a screenshot of what they are offering: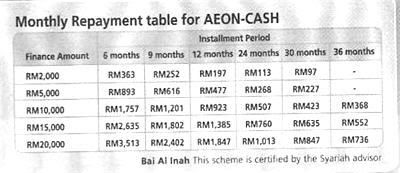 Interested to see more about the information, click on the image above for a larger portion of the newspaper advertisement. Here is what
Aeon Malaysia
website is offering: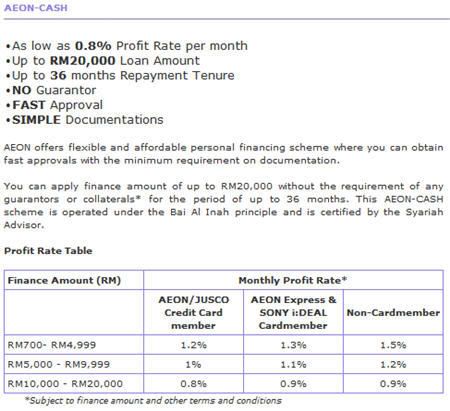 So, now we have an almost detail information in our hands. Let's do some calculation and some analysis on what we have. Assuming that we are not a member of their club, we would like to take a RM3000 loan from Aeon Fast Cash as opposed to Xpress Cash from CIMB Bank. Wait a minute, I don't have to calculate it myself, they already have a calculator, how cool is that?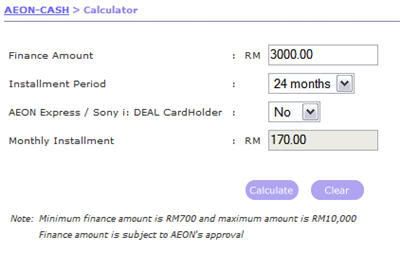 So, now we calculate RM170 times 24 months, that would sum into RM4080 of repayment. That's RM1080 of profit for the bank. Comparing that to my previous
CIMB Xpress Cash encounter
, that RM168 less. Not bad, but still a lot of money you have to repay if you come from a lower income group. I haven't dig out any additional cost that comes with the loan term but you get the picture right?
Last week, the nation was shocked by a family who couldn't afford to pay back their loan from a loan shark and cost them their children and nearly their lives (
click here
to read about this sad story). So, this piece of information could be useful but can only be a useful tool if you have a strategy to repay it. Eitherway, I'm going to bootstrap and not going to apply for any loans at the moment.
Labels: personal finance
posted by Encik Ash at 12/06/2006 05:29:00 pm


|