Wednesday, December 20, 2006
When I was younger, the internet was sort of like a luxury. The first time I went to a high speed internet cafe in Penang, I had to pay RM7 an hour but it's worth every penny of it since it is so lightning quick compared to my nowadays TMNet Streamyx connection. It reminds me of the speedy internet connection when my family first installed the RM111 TMNet Streamyx package which includes the ADSL modem when it was first launched. Despite of the slower speed my ADSL connection today, I can't live without an internet connection since I'm hooked on it most of my daytime.
When I see FREE INTERNET ACCESS, I get very excited. Last weekend, I brought my digital camera and took these pictures at level 3 of One Utama New Wing: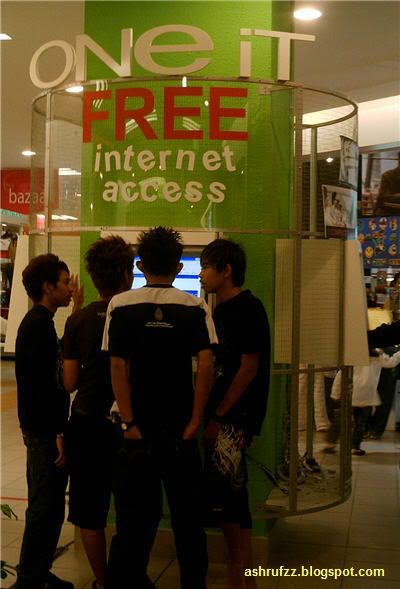 Those guys are on school holidays so what is better to do than hanging out at the mall. Why are they there? They are checking out their e-mails and their
Myspace
account. During my school days, Myspace doesn't exist yet but
MIRC
was the craze at that time. MIRC is still active but with today's media rich services I guess the number has decreased compared to last time. I'm going off the subject already, what I wanted to show you is how you could have multiple consoles just by using one computer host. I tried and build one during my employment in on of the company I worked with but the sad thing is, the console was even slower than I thought.
I forgot the name of the previous product I've used to create multiple console last time. This console you see here is built using "
Office Station
", a product by
NComputing
. What I like about this product is it is faster than the other product I've used. If I have my own small company, I would definitely install this product, this way I would save on:
Cost: because I can just buy one PC and the rest is just on other peripherals such as mouse, keyboard and monitor.
Security & Maintenance: I'm a hands-on technical person, so I know what to do just in case something goes wrong. It'll save me time to repair just one PC instead of 5.
Power: A PC can consume quite a lot of electricity. With the latest hike on the new electricity tariff, it is better to save up on whatever you can.
Space: I like my desk to have some space where I can write comfortably.

You can read further on the
advantages of OfficeStation
. I don't want to touch on the disadvantages of this product eventhough I'm not getting paid of writing about this product. I guess you can pretty much figure out yourselves.
Labels: computers
posted by Encik Ash at 12/20/2006 10:32:00 pm


|