Monday, December 11, 2006
This morning, I went to my nearest BCB or now it's called CIMB Bank branch. The reason I went there was to update my savings account passbook. I hadn't update my passbook since July 2005. Using a saving account for all my financial transaction, I couldn't track every spending I've made because there was no records available for small transactions made. I'm planning to open up a current account since there would be more benefits using that account. However, I'm not opening up an account so soon, I have to wait until I'm ready before I can do that.
So, while updating my passbook, I asked the officer for an application on
BCB MasterCard Electronic
. The officer then searched and searched for the application form. 5 minutes later, the officer came back to me and said that ever since BCB is now merged with CIMB, the card is now discontinued for application. Former card holders can still use their cards but new application is no longer available. I was quite disappointed because it wasn't easy for me to come to the bank, there was not enough parking outside, furthermore
I had planned to apply for a debit card since last October
.
End of last month and earlier this month, I tried to search for
Ambank NexG Prepaid MasterCard
at a few 7 Eleven branches. After asking several branches around my workplace and also around my home, one of the personnel told me that they have stopped distributing AmBank NexG Prepaid MasterCard. I have no clue why they stop the distribution but I was again disappointed. I wonder why there wasn't enough promotion and recommendation to use debit cards. Maybe financial institutions doesn't want you to use debit card and urge you to overuse your credit cards so that they can profit from you even more.
My only choice now is to apply for
Public Bank Visa Electron
.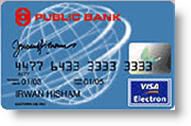 I'm heading to Public Bank this week for an application form. Hope my application would turn up well because I don't want to be disappointed again this time.
Labels: personal finance
posted by Encik Ash at 12/11/2006 07:54:00 pm


|