Monday, November 06, 2006
Last month, I wrote about
Keeping Your Dell Laptop's Heat Under Control
. Earlier this month, Kelvin Chu from
Tom's Hardware
wrote about
How Notebook Batteries Work and Why They Blow Up
. If you are wondering how laptop batteries look like, here's an image after dissecting it: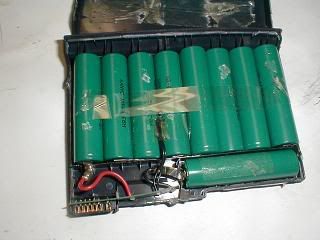 Well, this laptop battery is a bit ugly and quite different from the others but you can see now that it's no more of a bunch of rechargable batteries wrapped and connected together. The larger the battery, the longer it could last. However, I'm still sad about my laptop battery
which has already cooked
. I wish I had known
this information
before I've gotten a laptop. Oh well, the next laptop I'm going to purchase will have my fullest care.
Labels: computers
posted by Encik Ash at 11/06/2006 11:34:00 am


|