Thursday, June 29, 2006
Last year, I went to the MEDC 2005 where I blogged about it (
click here if you are interested to read all about last year's event
). This year, I went to the event again but in a different location. To be honest, I like last year's event better than this year one. Also, how time flies, it's been a year already? Damn...
As usual, I took shots of the event and tell you reviews of what I thought. Here's the first shot:

Probably because of the venue, there seem to be less people than last year. By the way, I got my new laptop bag from the event. It's only a matter of time before my last year's laptop bag shoulder strap snapped. The bag is bigger than last year's though.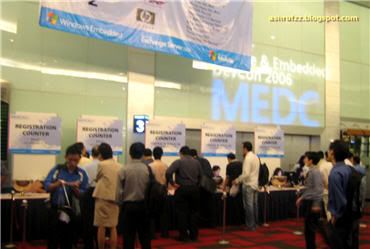 I paid an early bird price of RM50 which was the same amount I paid last year. If not, I had to pay RM80. That's not a good sign, soon they'll probably increase the price the following years which I hope would not.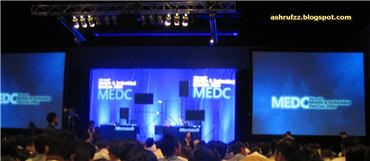 The montage of the stage is blue. I like blue. The music is nice too, some techno music they put on.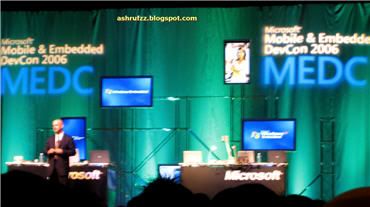 They have these nice plasma displays. I wonder how much does it cost to buy one.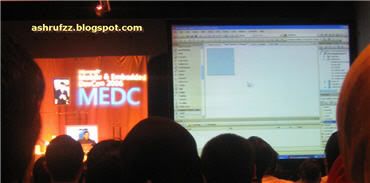 One of the speakers is a big guy, his name is Tan Loke Uei. I like his presentation, he emphasized on the difference between a designer and a developer. As for him, he is a developer so he's not really particular with the design, as long as it can work, it is fine with him. Hmm..let me think, I'm also a developer but I like to do design too. So which part am I? Most probably developer because my design sucks..haha..

Last year, I tried the Hands-on lab they provide. This year, I was relunctant to try because my company doesn't focus on mobile application yet. If so, I had to juggle with all the time consuming paperworks and office management apart from managing the company's website. Oh well, I should learn to delegate now. The booths at the conference is not as many as last year's.

So, the conclusion. I went home early and didn't stay until the end of the event. If only some companies can pay me a full time job developing mobile application alone and not doing unnecessary other stuff that I'm doing right now. I got another another seminar to go tomorrow about affiliate marketing. Hope it could give me a few ideas to execute the plans I have in my head.

Labels: events
posted by Encik Ash at 6/29/2006 12:53:00 pm


|