Saturday, April 22, 2006
Every now and then, we need to refresh ourselves. So, it's normal for us to change our mind all the time. However, it is vision that gets you moving forward whether you realize it or not. So, instead of writing my goals, I am writing down on my vision as sometimes I set my goal based on my emotional feeling which is changing all the time. Hopefully this new found way would help me shape a better future for myself and the people around me.
Let's analyze this situation for a while. Some people and even myself don't understand why I am still working for peanuts in a dreadful company that utilizes all my skills without compensating it. It is because I like the company's vision and the way it is moving ahead. However, I had numerous occasions where I really wanted to quit my job because of the low wages but eventually I stayed. Basically it all boils down to my own vision as I would like to see and be in the position of where the company will be as a result of the company's vision. However, I really need to think about my own vision and this what we all must do to mak our lives fulfill.
Anyway, last Wednesday I went to Sunway Lagoon Resort Hotel for a Microsoft event. The last Microsoft event I went was
Microsoft KL Ready Worldwide Launch 2005 Event
. So this time, this event is targeted to Microsoft Partners and since I have handled Microsoft product purchases for my client, it automatically makes me a partner. So, basically Microsoft target market nowadays is in Small & Medium Enterprise and this market is huge. They estimated that there are more than 300,000 SME's alone in Malaysia that is worth USD270 million. Wow...that's a lot of money and of course and if I could have 1% of it, I'm quitting my job immediately.
I have a few interesting notes but I left it somwehere. I need to find it so that I could plan out something. Here's a picture of me at the event: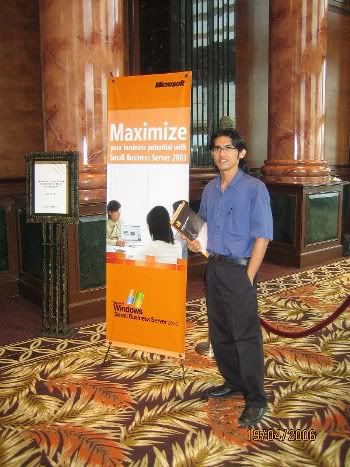 Well, I need to reorganize myself again. 3 weekend was allocated fulfilling my emotional needs. Now it's time to allocate it for my vision.
posted by Encik Ash at 4/22/2006 07:58:00 am


|