Friday, March 31, 2006
More than a week has past. I've been very occupied with my office assignments, projects, personal stuff and many more that I've neglected my time to contribute to this blog. Let me recap on what has happen for the past week. Last week, I went down to Johor Bahru along with my bosses. In
my previous post
, I was telling about an Italian man named Lorenzo Fierro. He apparently became my project manager after my last project manager was missing for more than 2 weeks already. After 2 weeks working at the company, he has made a lot of business appointment mainly setting up meetings with big shot of huge corporation in Malaysia. It was amazing to see how he had done the phone calls and how he managed to get through to the right person in charge of making the buying decisions. I wish I could have done that during my telemarketing job, well there are still time for improvement. Until then, better focus on what I do best which is handling technical issues.
I had a wonderful time hanging out with Mr Lorenzo as he tells a lot of his story through his vast life experience. He is a very aggresive person and he loves girls since he's an Italian. Here's a picture of me having 'Hubby Bubbly' (It's what Mr Lorenzo describe Shisha Piping) at the Gazebo, Subang Jaya: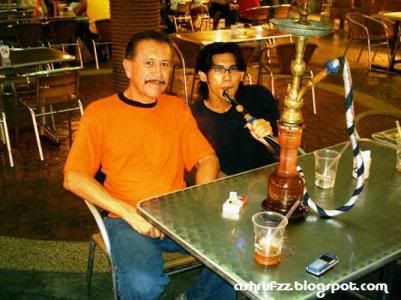 While moving ahead on my career development, I will not forget my other stuff I'm working on which is internet marketing. I still believe that the industry offers me tremendous potential and I should make the most out of my knowledge and take proper action. Imagine making USD526,744.35 a year just by building a few webpages and getting free traffics from search engines. With that kind of money, I could have become a millionaire in my country and never have to work for a couple of years. Or maybe using the money to invest it somewhere and make a profit so that it would become some kind of residual income and retire from my crappy job. Want to see that video, then
click here
. It's amazing how technology works.
I have loads of stuff to work on. I need to rewrite my goal and revise what I want to do with my life. It seems to me that I'm getting lost here. I need to prioritize back my goal and I need to do that in writing, not just in my head as it gets dissipated easily. Maybe you should do it too...Oh well, let's do it together then. Cheers...
posted by Encik Ash at 3/31/2006 01:46:00 am


|