Monday, March 20, 2006
Last Monday, my team and I went to my company's client site. We had 2 hours of discussion and we found out that we are way behind schedule and there are lots of informations which is still missing. Since I am the second man in charge of the project, I had to take up the responsibility therefore I had to do something. Unfortunately, I wasn't able to come up with a solution until now, my main project manager is missing, my big boss is doing something with his new buddy and I was left clueless wondering what to do. I know for fact that if I asked for help through my boss, my boss is not willing to pay anything as the project is shaky. There is no contract between the top management yet and no money is coming in. So, we are currently gambling our way doing this big project.
Enough about the problem, I'm going to have a headache if I go on thinking about it. There's a new guy in the company and he claimed to be some hotshot guy in sales and marketing. He is very loud as he also claimed to be an Italian and Italian talks that way. If I'm not mistaken he is in his 50's I guess. Anyway, he loves telling stories and most of all, he loves talking. He can constantly talk for hours. Since he tells a lot of thing and I was being sceptical so I Googled his name. Unfortunately, nothing came up. I didn't gave up, I then searched at Yahoo and finally, I found his resume. His name is
Lorenzo Fierro
from Saudi Arabia. The good thing about him his, he has a lot of experience. He reminds me of my previous boss. The guy is very aggressive in doing marketing and doing business. He said he can close big deals. When dealing with big deals with big-big corporation, a high level of confidence is needed which I'm cultivating so that one day I too can be in that position, but I need to find my own way of dealing with people. Doing sales is fun, I did an online sales and I was jumping up and down in my bedroom. I once did a one to one presentation, I failed miserably. Maybe my level of confidence is not up to par yet.
I hope this upcoming week would be better than the week before. Before summing up, I present you a few pictures taken during my outings at my office: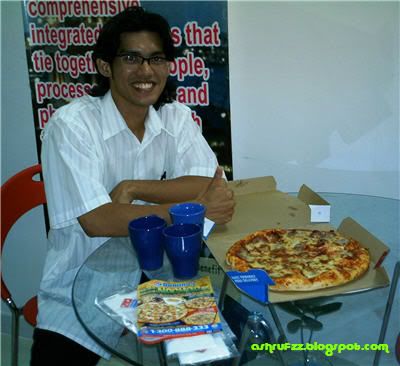 I ordered
Dominos Pizza
last Thursday. They had claimed that if the pizza is delivered more than, 30 minutes, they'll give a free coupon. Well, they sent slightly more than 30 minutes and of course, the coupon is attached. Anyway, their pizza in my personal experience is much better than Pizza Hut.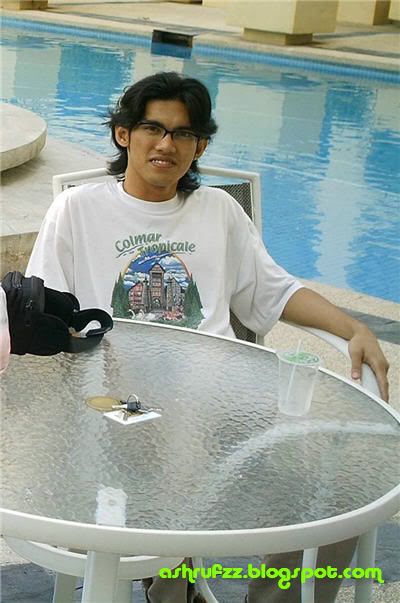 Down 4 floors from my office apartment is the swimming pool. If you look at my picture above, that was my 2nd time hanging out there and apparently gone to swim there. I barely had the time to do swimming as I had a lot of work to do or I didn't bring my gears. I had a great time along with my close friends hanging out on a beautiful Saturday afternoon.

Happy Monday to all of you..

posted by Encik Ash at 3/20/2006 12:45:00 am


|