Friday, August 26, 2005
The Truth Hurts
I had high anticipation yesterday, I gather up all my courage and asked my boss for a new salary. Since we had just moved and we are now at a new place, so I thought I can have a new salary also. I was completely wrong and I was very devastated. I work my butt out to work everyday doing all sort of stuff to help the company and my effort of keeping the company alive is not very well appreciated. Then I was told by my boss all sort of crap that the company has a huge debt that it needs to recover but my concern is, why doesn't the company invest in what can bring the company more money which is quite frankly, the people in the company?
Lucky for me, last night I went to a 'Making Money' Seminar in KL. I've been a creating wealth seminar junkies before but my motivation went back to my old self after a few weeks. So, it was a revitalizing thing to do and it did changed back my mindset. The thing that I've learned last night is if you want to be successful, you got to have a 'successful mindset'. I think my boss mindset is screwed and I'm planning to leave the company once I've gotten myself some handsome paycheque elsewhere..(I'm evil Muahaha...).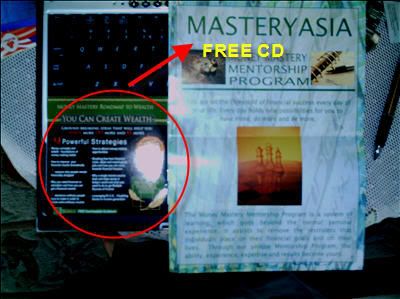 So, I got a CD free last night and it's an Audio CD. I remembered last time when I was in network marketing, I constantly listen to these motivational stuff. Still I wasn't going anywhere since I'm more interested in other stuff. BTW, if you are interested in these type of seminars, a great program you can try is this one.
Visit this website
.
We are all crazy about money don't we? At least I am. Hope you all could think of what's best for your future. Cheers..
posted by Encik Ash at 8/26/2005 08:15:00 am


|
At 8/26/2005 05:59:00 pm,

Anonymous
At 8/26/2005 06:29:00 pm,

Anonymous
At 8/26/2005 06:40:00 pm,

Anonymous