Saturday, August 27, 2005
New Car vs 2nd Hand Car
This morning, together with my brother and my father, we went for 'Car Shopping'. Its about time me and my brother trade-in our old and torn down cars. My car for instance is park in front of my house for weeks untouched. Pity to see my old trustworthy car becoming junk, I decided to sell it off. A peek of what my car used to look like,
click here
.
Anyway, we were just 'window shopping' for a practical car. Sometimes, the salesperson can be quite persuasive to resist the temptation of buying a car. Still, if you are decisive, you can overcome that. Let's see what we've found: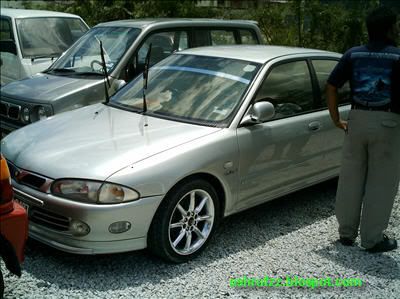 This was the 1st car that attracted my attention. I know that a Proton car is often known for its quality, still I'm just looking for a practical car to move around, not showing off or somewhat. This car is a 1995 built, so its cheaper but the downpayment is kind of higher than a newer one. The displacement (cc) is 1.6 litre which made the road tax somehow more expensive. Furthermore, someone had already booked the car. So, we moved on.
Now this is a good car. Formerly owned by a lady driver, its RM32K with a 1.3cc engine capacity. The car is in immaculate condition and my brother and I was looking forward to it. The advice the salesman told me was, if I put a high downpayment, my monthly installment would be less. Still, I'd be owing the bank for a few years and making the bank richer with the interest they charged.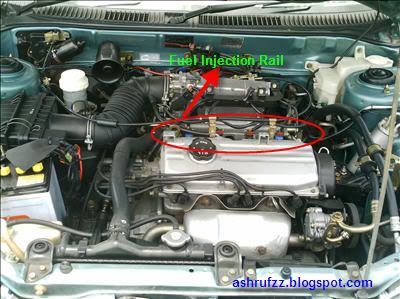 Since I studied Automotive Engineering back in University, I could rectify which part is still good or bad with my knowledge I've acquaired. I hadn't got the chance to drive it since we were unable to make a decision yet. The best part about this Proton Wira Aeroback is the engine is a 1.3cc with Fuel Injection. In Malaysia, there air pollution law is not as stringent as in some countries so carburettored engine cars is still running around making the air less healthy to breath. I'm not saying that Fuel Injection is environmentally friendly, at least it consumes less fuel than the carburettor.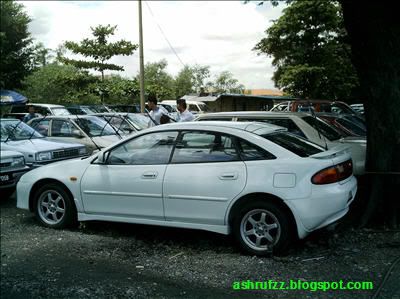 So we went hunting other cars on the next lot. BTW, I live in Jalan Ipoh, KL. The area is known to be an automotive hub (at least in my area though). The entire road on the strecth is full of 2nd hand car dealers. On the next lot, I saw this baby, a Mazda..err..I don't really know the name of the model. Its an old car but still, its a beauty. Not too practical for me since the spare parts need a bit of work to find.
Earlier, I was reading this page about whether to run your car with the Air-Conditioning or not to save fuel. You can check it out by
clicking here
. I noticed from my statcounter, there are people from outside of my country who also visited my blog. If you would like to search for cheap cars, you can
go here
.
That's enough for now. Oh, I forgot to tell you that I didn't buy a new car yet. Still waiting for my friend to find a buyer to dispose my current car 1st. Give me some comment on whether I should go for a new car or a 2nd hand one? Have a happy Weekend everyone.
posted by Encik Ash at 8/27/2005 03:17:00 pm


|
At 8/27/2005 04:08:00 pm,

Anonymous
At 8/27/2005 04:18:00 pm,

Anonymous
At 8/27/2005 06:03:00 pm,

Anonymous