Monday, November 13, 2006
In Kuala Lumpur where I live, when it is reaching year ends, there will be rain almost every evening. This would last for several weeks. Maybe it is the monsoon season or the cloud get saturated, I don't know, ask the Meteorology Department if you want to know more. Last Saturday was my re-exam day for my Cisco Certified Network Associate (CCNA). I finally finished my first semester, now another 3 more semesters to go. After the exam, I went and had lunch somewhere in Shah Alam. I then went to Seksyen 2 in
Shah Alam
to meet friends of mine. They're having lunch there and asked me to join them. It was raining badly by the time I got there.
My car's air conditioning is broken so I had to wipe away the moisture built up inside my car with tissue paper. I hate driving in the rain. So, I arrived at the eating place where my friends was eating lunch. A few minutes later, the water level rose up above our ankles. People were still hanging out by then and was hoping for the rain to fade away soon. The rain kept pouring in and since the eating place was just next to a big drain, the drain was however clogged though, the water kept on rising. Then people started panicking, the dining table almost got washed away by the streaming water. I had no choice but to save myself. I then saw a couple of cars were now submerged by the water rising. I was concerned about my car so I rushed back to my car while walking through the knee level flood water. Luckily the water level at where I parked nearly touched the lower portion of my car so my car can still be driven. It was a horrible experience.
I didn't manage to get any pictures while at the eating place because I left my camera in the car. On my way to Klang, there was this horrible traffic jam just before the Sg. Rasah Tol. The reason: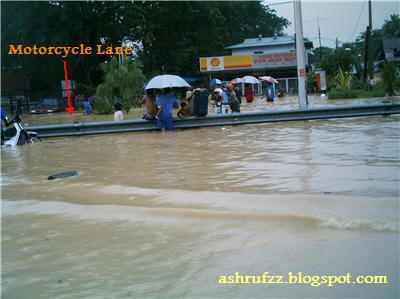 I somehow manage to maneuver through the flood water and made my way to Klang City. I saw many stranded motocycles and cars while going through the flood water.
Tips To Drive in A Flash Flood
Make sure all your car windows are closed because you'll never know some lorry or bigger cars will barge through the flooded area and splash a big amount of water right on your car's window.
You must be confident enough to drive your way across the flooded street, if you have a lowered car or the water level can seep into your engine, then just don't cross yet.
While you are driving your way across the flood,

DO NOT

release your accelerator pedal or else the water can go inside your exhaust system and of course, stall your car.
If you drive a motorcycle, make sure your engine is kept warm. The flood water can immediately cool off your engine block and causes your piston to be jammed and you'll get to nowhere.
Last thing, if you can afford it. Have your insurance policy covered with flood protection or you'll have to pay for your own repairs.
Have a safe rainy journey ahead.
Labels: local
posted by Encik Ash at 11/13/2006 11:29:00 am


|