Friday, September 01, 2006
It's the month of September already. My schedule are so packed already eventhough it's a new month. Anyway, I got back my car after nearly 2 months of waiting for it to be restored. I'll write about my restored car it in my next post.
Last 26th August 2006, since nobody was available to send me to pick up my car at Setapak (the workshop appointed under my insurance policy) I decided to go to the place by bus. Eversince Rapid KL took over from Intrakota, I have no idea of how their latest bus fare is like. So, I did a bit of digging on the net before I got on the bus, but the official website of
Rapid KL
is so confusing. The maps were too small for me to see and it dissapointed me because I had to search for the information. I have no clue about their bus sytem eventhough I got off the bus. I then found that Wikipedia provide a better more comprehensible information about
Rapid KL System
. I'm puzzled of why is a big corporate government owned body
could not provide the essential information
about their own services on their own website. Why?
How To Get To Taman Danau Kota From Sungai Mas Plaza, Jalan Ipoh.
I live nearby Sg. Mas Plaza, Jalan Ipoh, Kuala Lumpur. The bus station is a 10 minutes walk from my house. It would cost me RM3 if I were to take a taxi just to get to get to the bus stand. This is the landmark of my place: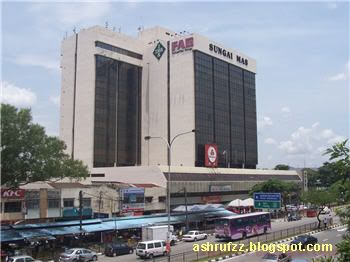 Here is the place where I took the Rapid KL bus. It is one the hub in my area: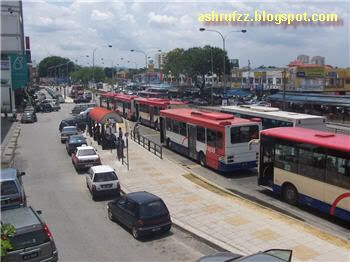 The routes available here are:
210:
Sungai Mas - Taman Batu/Taman Muda/Ampat Tin - Warta Lama
222:
Sungai Mas - Jinjang Utara/Taman Beringin
225:
Sungai Mas - Taman Bukit Permai
234:
Titiwangsa - Jalan Ipoh - Sungai Mas
236:
Sungai Mas - Jalan Kepong - Metro Prima
I need to go to Titiwangsa and switch to another bus to get to Taman Danau Kota. Here's the bus I took: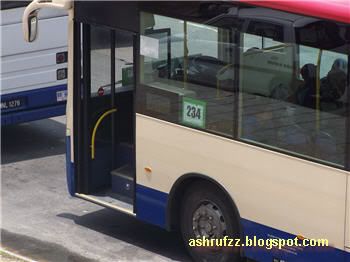 The journey then took about 20 minutes before I arrived at Titiwangsa bus stand. I was glad that the bus stick with its routine unlike the old days where some buses waited for people to cramp into the bus before they took off.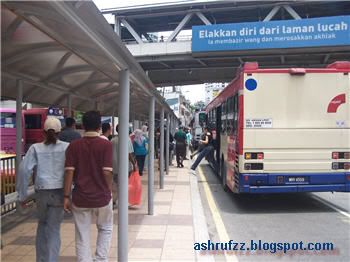 At first I thought I just paid the bus fares once and I can just go anywhere using the ticket I bought for the whole day. That is what Rapid KL advertised on the radio, television and their brochures or billboard. I then found out that it was just for certain travel within the zone. I got confused but I paid the fares while switching the bus. I couldn't figure out what buses is available at Titiwangsa because there were too many of them.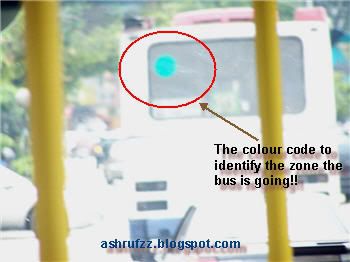 The above picture is how to spot the colour codes that Rapid KL has implemented in their network routes. To read more about the colour codes,
read all about it here
.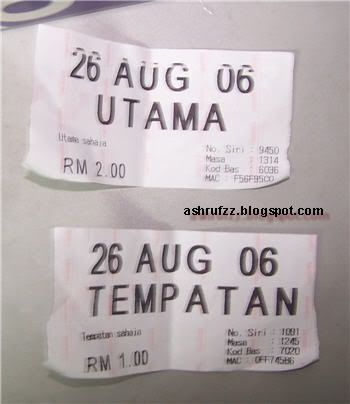 The above image was the ticket I bought. To get to Titiwangsa, I paid RM1 which I can use to get back to where I was from. I then bought the RM2 to get to the destination to pick up my car.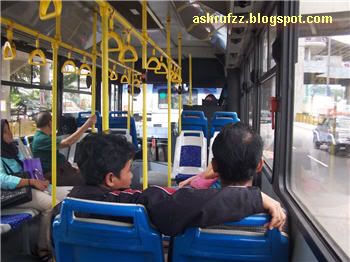 I didn't sweat much since the bus is air conditioned and it was comfortable enough despite of the crowd. If I'm not mistaken, I took the bus number
T20
(Titiwangsa Jln Pahang - Jln Genting Kelang - LRT Wangsa Maju Giant: Hulu Kelang). The journey lasted around 15 minutes.
Glad to found my car has been restored before I went up to the workshop's office. I don't really mind walking a few distance as long I can get there. The whole journey took me about 55 minutes. Compared that to if I'm driving, I could have save 20 minutes. Oh well, at least is comfortable and safer than riding the motorcycle. I saw two minor motorcycle accident this week. I also save money by taking the bus. A taxi ride would have cost me around RM20 from my house to the destination I was heading.
As a conclusion, I still prefer if I had the bus information earlier instead of trying to figure it out by asking people and observation.
posted by Encik Ash at 9/01/2006 10:07:00 pm


|