Wednesday, August 09, 2006
This morning, while walking to get to my office. I passed by Starbucks Cafe, Amcorp Mall (where my office is located) and then saw someone whom I met way back in 2004 during an event I participate called
The Total Wealth Seminar
conducted by Marco Robinson. At first I thought I mistakenly recognized him for someone else, so I shot him a comment on his blog. He replied back and said it was him alright. After lunch, I tried and search for him before bumping into him on the escalator.
Kidino
is a rare breed of online entrepreneur who quited his job and ventured into the online business full time. He makes money selling digital products, online web tutorials, affiliate marketing, Google Adsense and many more. While he was at Starbuck, he manage to make out
this amazing salesletter
telling about Mike Filsaime latest product. In the world of Internet marketing,
Mike Filsaime
is a big shot.
I envy so much of what Kidino can do. Of course I know that he spent years learning, doing and perfecting what he has achieved right now. As a jack of all trade, I think I'm not moving ahead these days. I need to change and the change has to come from within. I'm thinking of finding a mentor but I'm afraid that I couldn't commit on it. In another perspective, I think blogging is now becoming a career. You can make a full time income as proven by a number of people committed to blogging.
Problogger
is one of the big shot in the world of professional blogging. I took on
Problogger Quiz
and here's my result: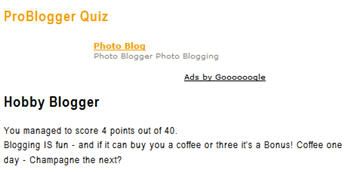 I'm just blogging as a hobby. Well, it is fairly true enough. I need to go
pro
. I need to change. I'm changing it
NOW!
posted by Encik Ash at 8/09/2006 08:42:00 pm


|