Thursday, June 01, 2006
The office where the company I work is located in a Penthouse suite on a limited access 15th Floor of Amcorp building in Petaling Jaya. The view is awesome, the facility is great and the environment is very different from the normal office we used to see on TV. I pretty much prefer a virtual office where I can virtually have my mobile office everywhere I wanted but the office is fine enough eventhough the pay is quite low. I had a small quarrel with my boss where I wasn't satisfied with the way he treated me. Thinking about it, it's the nature of being an employee so I need to choose a different path and take charge of my own future.
Anyway, I have a big presentation with the military I guess early in the morning. Since there are still certain stuff that me and my team need to prepare, I had to make a decision to come to the office and finish the job. I transformed the office into an apartment where me and my team will be sleeping soon enough: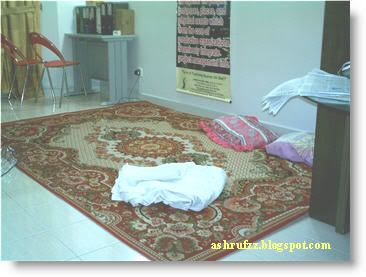 OMG..just by looking at the picture of the mattress makes me feel drowsy and sleepy. I think I'll take a nap first and continue my job early in the morning before we go. Have a nice sleep you all...Zzzzz....

posted by Encik Ash at 6/01/2006 02:13:00 am


|