Saturday, February 11, 2006
After working hard in my employment with a very minimum wage, finally my dream of having a laptop is now fulfilled. It now justifies my contribution to te company eventhough my salary is still the same, I can always find another way to earn more, if you haven't notice, Trillions of dollar circulates around the globe every single day in stocks, forex etc... Eventhough the laptop is not really mine, but it fills my purpose of having a mobile and powerful tool so that I could utilize and push my computing skills to the limit. The price of the laptop was RM3,400. So now I want to give some reviews about the
DELL INSPIRON 630m
I'm using to write this post on this blog: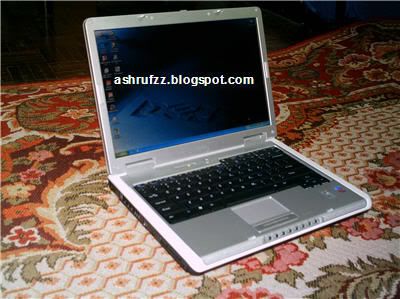 The first impression when I got this laptop is, it looks so basic. My preference because I use to work with all sort of tools is to have functional button everywhere. Then I realized that the functional button is on the keyboard with a blue fn tab, so on second thought, this is cool. The battery can last up to 5 hours.
I don't really like going to the spec in details, if you really want to know the details plus some other reviews, you can click on the image below:
So what will I do with this
mobile powerhouse
? Yesterday, I had a chat with my fellow acquantaince on the million dollar project that my company is engaged on. It seems that the entire documentation needs to be revamped and reorganized. Since all the documenting and coordination lies under my responsibility, I will use this laptop to organize the documentation and making necessary improvement so that the project progress would be good. Of course, since I have some side projects of my own, I can utilize the laptop ability to multitask and create something with ease.
It's a waste if such high performance mobile processing unit is underutilized, so it is my job to make sure it will be use to its maximum performance.
P/S: Last week I reconfigured my neighbour's Acer laptop, I like that laptop very much because of it's amazing crystal clear display and apart of its 1.5GHz Centrino with Celeron M (Celeron M is a lower end of Pentium M), it works fine enough for an average PC user. The price was RM2,500 only...
posted by Encik Ash at 2/11/2006 08:54:00 am


|