Monday, February 06, 2006
2 weeks ago, I found a free gift in a form of a zip file which contains an e-book together with the sales letter and a thank you page. After reading the book, I repackage the gift and since the author of the book encourage to sell the book, I made a
direct response marketing webpage
just to practice my product packaging skill. I then left the page untouched since then and gave the link to my brother who put the webpage on his Autosurf Program list.
This afternoon, I opened up my e-mail and to my surprise, I got this message: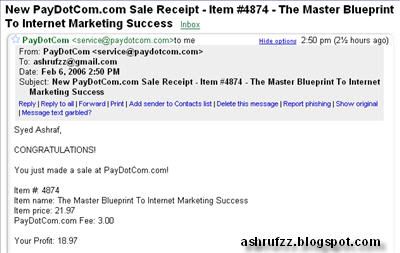 I jumped off my chair and screamed to my brother who sits just nearby me. It was euphoric to get a sale. The last time I had that feeling was way back in 2004 when I did online advertising, you can scroll on my earlier post to read all about it. I've been studying about doing an online business for the past 2 years but my lack of action hold me back. So, the lesson I've learned is to just do whatever you have learned.
So, if you have anything you would like to sell especially digital product. I recommend you to use this payment processor below if you don't have any budget just like myself.
posted by Encik Ash at 2/06/2006 06:07:00 pm


|