Monday, January 09, 2006
Last year, I sold two domain names to a friend of mine. Unfortunately, he only did a few pages on his 50MB hosting and half-way, the website never seem to get further develop. I have this urge to
kick
my old habit of reading e-mails and surfing the internet for crap so I told my friend to hand the domain and hosting back to me so that I could get something done.
It sure is a difficult thing when you are accustom to something that you are comfortable with. Change is definitely harder when you are use to do something. Since the things I've been doing is not a productive activity, I had to force myself to do something which I have been long planned but never really got any follow up. So here what I did: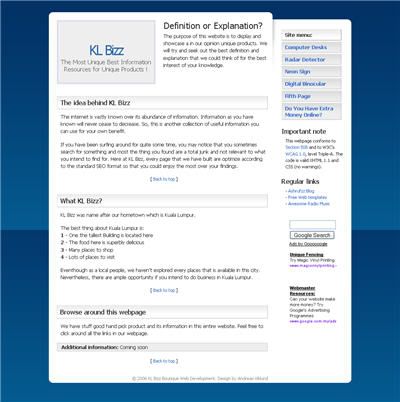 It took several hours just to create this page alone plus some additional hours for a few more pages. I would have never thought by just customizing a page
(yes, I'm not a designer..I like to customize)
it would take hours. I speed up my skills after that. What I need now is more practice and a better direction. Customize and design can get you lost somewhere especially when all the things are in your head, I would suggest you right it down somewhere before you get a mental lost.
I'm doing more pages as I'm through with just reading all this time. More ACTION this year...Owh, its the year of the DOG..Let's bark..Woof..Woof.. ;-p
posted by Encik Ash at 1/09/2006 12:30:00 am


|