Monday, January 23, 2006
I must admit, I am not really a big fan of Mawi. I see Mawi as an average guy just like myself only that a lot of people would really like to see. I know plenty of people who doesn't really know "who is Mawi?". I ask that question last year until Mawi appeared in the local newspaper. The rest is history. If you really don't know who Mawi is, check out this fanatical
Mawi Fan Club
.
Last week, my company was asked by my client to donate and join the
Konsert Seroja Bersama Mawi
. You can read about
the concert here
. Since my company was paying, my boss doesn't have anyone else to ask but his staff to go to the concert. I was guessing the consert wouldn't be that official but when I heard that Datuk Seri Najib Tun Razak was coming, it was something big since the deputy Prime Minister came. It apparently was a high profile fund raising event. It was said that nearly RM400,000 were collected from corporate donation.
The invitation card was quite catchy, the table of 5 people is priced at RM2,000. The food was average but the dissapointment was the sound system. It was awful.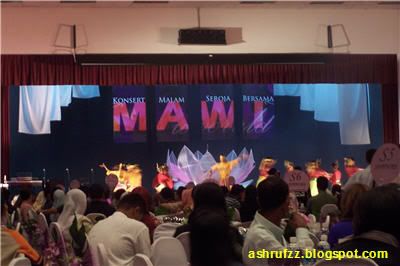 The setting was nice, there was also a gimmick during the starting of the concert where someone disguised Mawi went into the red carpet from the front entrance. A lot of people were fooled, anyway it was entertaining to watch.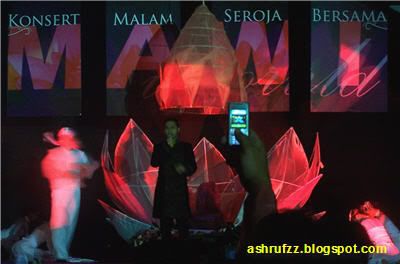 The event was not entirely Mawi's. The other AF3 counterpart finalist was there as well. They were Felix and Akma. Not to mention Datin Seri Rosmah (Datuk Seri Najib's wife) had a 6 songs karaoke session with a few duet song with Mawi. The host, Raja Azura and Azlee Senario was quite hillarious although their jokes are sometime a bit too extreme.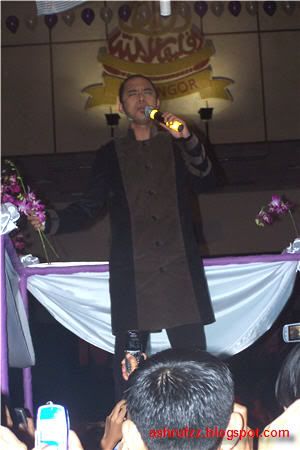 Personally I think Mawi had done his job as a performer, he doesn't let the crowd down. By the way, I would like to imagine how if Mawi grows his hair a bit longer. Someone sent an e-mail and showed me a few photographs.
Not too bad ehh?? The overpriced dinner concert wasn't worth it if I had to pay for it personally and I heard that Mawi was paid RM70,000 just that night. Could be just a rumour but imagine 200++ tables with RM4,000 for just one table. That is quite hefty money for the management, right?
I wish Mawi all the best in his career...
posted by Encik Ash at 1/23/2006 12:39:00 am


|