Monday, January 02, 2006
I am not a fan of crowded places. Eventhough I have no problem mingling around crowded events, I'm not comfortable doing it. So, last Saturday night which was New Year's eve, I had to entertain a guess who came all the way from a nothern region just to celebrate New Year in Kuala Lumpur. The night before, she told me she wasn't going, all of a sudden she changed her mind and immediately came the day after. How girls change their mind so fast.
The last time I ever attended New Year's public event was back in 2001. At that time I came with my guys friend. It was so much easier going out with guys. I'm not saying it is not fun going out with girls, infact I went out with girls countless of time. It is just a platonic relationship, I haven't decided to go further yet.
Well, back to my New Year's Eve story. I left my car at my office and took the Putra LRT to KLCC. My best friend joined me afterward with his new girlfriend. I was surprised to see my best friend brought along his new girlfriend just having to know the girl for a couple of days. They look pretty intimate. I wish them all the best in their new found relationship. I'll let the pictures I took do the talking for a moment: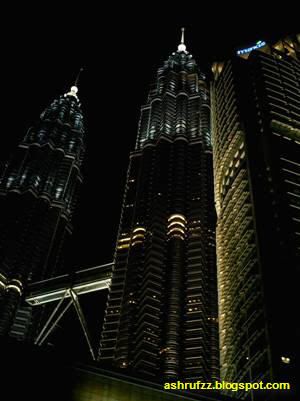 My camera is a crappy camera. I'm going to sell off my camera when I have enough money to buy a new one. Look at the picture I took, it looks dark and dull. Anyway, I took this picture while searching for the concert area. The damn organizer didn't even displayed any signs where the concert was held. A lot of the people were lost trying to find the concert place. I then used my common sense to find the concert place. Lucky I found the place during half-way of the
PETRONAS OUTREACH COUNTDOWN CONCERT 'LIVE' FROM KLCC.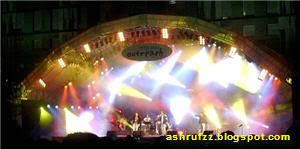 The concert was quite good at the beginning. Things started to get packed when a few rock song were performed. Most of the guys were foreign workers mostly from Indonesia by the way they speak. Suddenly one crazy drunk guy smashed a beer bottle right in front of me, then there was some other guy pushing and started punching. There was almost a fight which was just about to happen. I was lucky the debris didn't fly towards me, I got nervous so I back away from the scene. Eventually, some guy calm the place down and things were smooth after that. One of the reason why I like to stay away from crowded places. BTW, if you want to read a good yet disturbing story on crowd problem during New Year's event, go to
Xiaxue's Blog
. I was scratching my head when I read
"
The worst comment I read, was this girl who actually had a foreign worker insert a finger into her vagina."
How on earth that could have happen?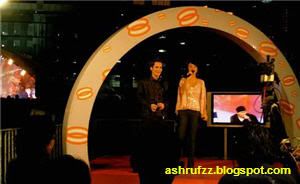 I am a fan of 8TV's Quickie show. So I snap a shot at 8TV booth just outside the concert area. I adore Marion's fine beauty, I think she's gorgeous and trendy. I also love both Adam's and Marion's english accent, I hope to speak like them some time in the future.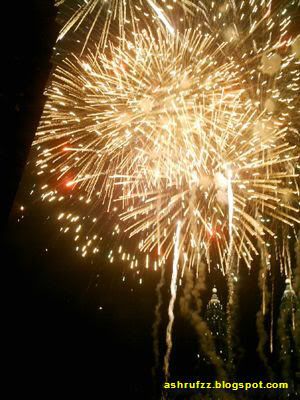 The event highlight were of course, the countdown. So, as usual the firework starts to go off. The firework were not as long as last year. Even my next door firework show during Chinese New Year of some other chinese festival were longer. Still, I had fun. However, I don't think I am going for the 2007 celebration. But if I were invited to some private party of somewhere else, that would be an exception..hehe..
My new year's resolution is fairly simple,
work smarter, automate and earn more money
. Of course, I would definitely work for the better. Wishing you all a great year ahead.
posted by Encik Ash at 1/02/2006 07:00:00 pm


|