Last weekend, I did something unexpected which I haven't done for quite a while. It's amazing how you can get motivated for someone of the opposite sex. Before I go on with my story, as usual, my career journey 1st: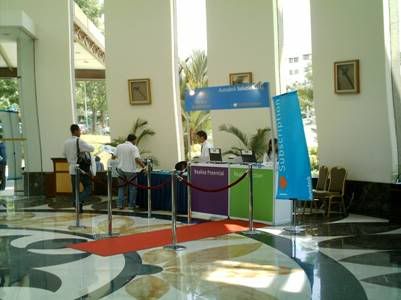 On the 28th of June, I went to Autodesk Solution Day at Sheraton Hotel & Tower in Subang Jaya. It's the same place I went the week before about Microsoft Small Business Server. This software industry is huge and I'm thinking of a plan on how I could 'dip my feet in the water' in this industry.
I'm sure most of you are getting bored of the high flying career stuff. I'm thinking of that right now..haha..anyway, move on to my story. The past few weeks, I got an SMS syndrom whereby my hand couldn't get away from my handphone. I was SMS crazee with a girl I've never met. This isn't my first time BTW plus, I like taking the risk of getting to know someone I have no idea look like. For those of you who haven't tried 'Blind Dates' before and you are a guy, you're missing out hell of an experience.
This girl that I'm supposed to meet had been in contact with me for the past 6 years. I ignored her because I think she's a bit crazy. To cut the story short, after 2 weeks of planning, I executed the plan to meet her just to get dissapointed when she didn't turned up. It was an expensive lesson I've learned as I got myself all the way up to Penang by bus just to see her (She lives in Kedah BTW). Actually, it's not that expensive (RM50 for the bus fare and RM10 for a simple makan) but the thing was, I got screwed and I wasted 5 hours waiting in an odd place. Still, on the bright side, I got to know a very smart, intelligent and business minded 26 years old girl on the way there as she sits beside me. We had a great chat on what I enjoy doing, sharing business information. Anyway, let's look at some pics now: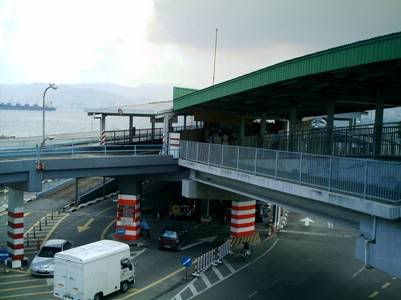 The last time I was at this place (which was 7 years ago), the place was a very busy bus station linking the Jetty Ferry. I was shocked to see that only the counter is what's left of it.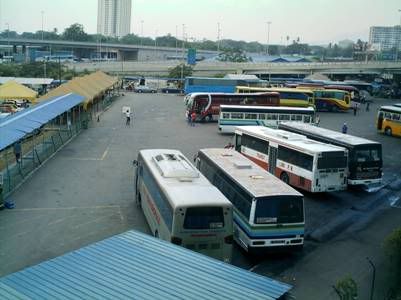 The bus station or should I say, The Bus Parking Area.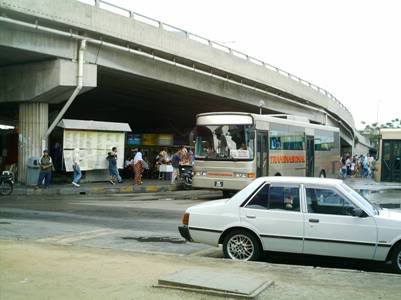 The bus ticket booths is situated under the flyover where I waited there for like 4 hours. I finally gave up waiting and bought a ticket straight back to KL. I should've gone shopping in Komtar if the girl haven't stood me up. Oh well, you get some, you lose some, it's a natural cycle I think.
It's good to see something that haven't changed a lot. This Rail Station is still like the old days where I took a train back to KL for like 8 hours and I was sitting between the coaches. It was some memorable trip.
If you're wondering what did happen to the girl, she called me and apologized and the usual, excuses and more excuses. The thing was, her brother took her handphone and she wasn't allowed to go out of the house. It's very hard not to buy such excuses by a nice, heart shaking, lovable voice of a young hot girl (I can say she's hot because she gave me her pics..hehe..). As a guy who reads
www.askmen.com
once in a while, I need to stand strong. So, I told her to come down to KL if she wants me to forgive her. We'll see what'll happen next. Until then..keep on blogging..Cheers..