Thursday, June 23, 2005
My life sucks these days. It is the usual driving back and forth from my home in KL to Sunway area (my office). I can't imagine how someone could stand being in the rat race for like until he or she retired. Anyway, this morning while driving to work, I saw this motorcycle in front of me and I was laughing my head off when I saw it. By the way, my brother who is working together with me took this pic while cruising on the LDP Highway just after the Putra LRT Kelana Jaya.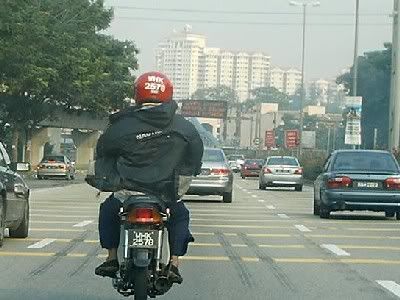 Can you spot something similar on the picture?
Have a nice day..
posted by Encik Ash at 6/23/2005 11:42:00 am


|