Wednesday, June 06, 2007
This post is brought to you by:

As a blogger, on of the thing that matters to me is to take shot of pictures wherever I am are on the go so that I could have something to write about. For that, having a digital camera or at least a camera phone is something of a must for me. With digital images, there are no need to have an inventory or requires a lot of space in storing them unlike the old days. All of it can be stored in your computer or these days, upload them to photo sharing website such as Flickr, Photobucket, Yahoo Photos and so on.
There one issue when we store all of those digital pictures, it got buried away together with the rest of all the other photos that we've taken after such year. It's actually quite ashame. If only we could get a frame so that we could get a frame so that we could display all of our photos somewhere. There is a solution for that: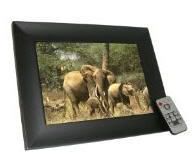 Introducing
The Digital Photo Frame
by
Digital Framez
. Basically it's a modified TFT active LCD display that is customized to become a picture frame. Unlike the normal LCD display of a computer, it's smaller and lighter and can be hanged over on your wall be it on your living room, your SOHO or even in your bathroom (not recommended though since it's an electronic piece of equipment). It even has sound too. It supports a lot your digital camera equipment where it has a built-in memory car reader. There's also a USB port if you use pendrive to store those digital pictures.
How do we use this
Digital Photo Frame
? Check out the diagram below:
As you can see above, it's very simple. There is a lot other thing you can do with this digital picture frame. It's all up to your imagination. The price is reasonable too.
Head over to
Digital Framez
and order one
digital photo frame
for yourself, your loved one or for someone you really care.
Labels: sponsored post
posted by Encik Ash at 6/06/2007 07:56:00 am


|