Friday, February 09, 2007
After I went to
The "Wow" Windows Vista Launch
, I head to an IT superstore on the 3rd floor of Low Yat Plaza. A friend of mine works there. He has been working there ever since he graduated from his Diploma in Electrical Engineering and is still there. I don't know why he doesn't change jobs like I do (I'm going to be in my 4th job next month), but he might have a nice reason to stay there I guess.
The good thing about having a long serving friend at an IT store is, you can always ask for a greater discount than everybody else. So, after surveying other speakers they have in store, I've settled down on
Sonic Gear Morro 200 2.0 Multimedia Speakers
. The price of this speakers was RM19 but I got it down to RM17 by my friend there. It was a steal since the speaker was on promotion. This speaker is not for me, it is for my girlfriend's Acer Aspire 3683 laptop. I've tested the Acer Aspire 3683 laptop speakers and it has a pathetic built-in speakers.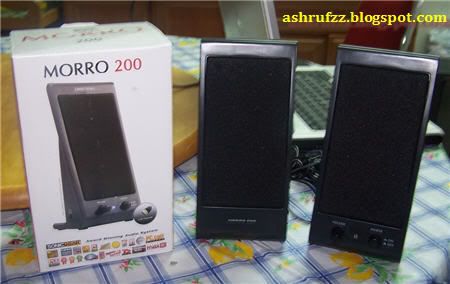 So, how does it score after I tested it out? I'll go into the features I like first. The speakers is USB powered, that means no additional bulky power adapter needed. I hate to have another power adapter because my power cord plug extension is already full. So now I can just plug my speakers into a vacant USB port and enjoy the music. I really like the sleek futuristic black design an the illuminating blue LED. Plus, the speakers have a headphone jack in case you need a private moment. If you have a headphone directly connected, you'll notice that even if you set the volume to the max, it doesn't sound good enough. This speaker will juice the sound up, kind of like an amplifier.
However, the small 6 watts speakers when tune up to a higher level, you'll hear a cracking noise. Since it is not built for high performance and it is the cheapest quality speaker I can find, you get what you pay for. I tried a trance music on my
My Dell Inspiron 630m
, the built-in speakers for that laptop does a better job than Sonic Gear Morro 200 speakers.
Still, as a bootstrapper, I value the practicality and the look of this speakers and for RM19 a piece, it is quite a bargain.
Labels: tech shopping
posted by Encik Ash at 2/09/2007 12:28:00 pm


|