My internet connection at home sucks. I don't know why but I think it has something to do with TM Net Streamyx connection node in my area. I think it's overcrowded and Telekom is not doing its job to handle such high capacity in my housing area. Now they have this 'member gets member' campaign. The broadband business is no doubt a very lucrative business but the quality must also be reasonable, if not it is no point paying a flat rate of RM88 every month but the connection is merely resembles the dial-up connection.
Enough on bashing up TM Net. Now let's go on with my story. I love cakes, especially chocolate cake. It's so YUMMY!!!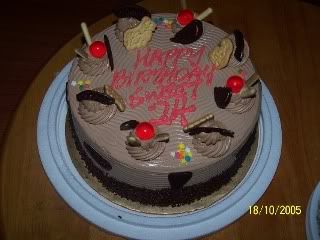 This was my last birthday cake. It is an ice cream chocolate cake. I don't know what to write on my own cake so the word 'Sweet' appeared on the cake..haha..
My week last week was a hectic week, except for Friday where its a public holiday for where I work. At some time, it feels good to work, at least I am no 'potato couch' who just sit in front of the tv doing nothing. Lucky for me, my house don't have those satelite TV if not I would probably hooked.
Have a nice weekend everyone..