Monday, August 22, 2005
Tips for a Weekend Holiday
One of the things we always look forward to, to travel somewhere else other home. I just got back from a place and boy I'm exhausted. It's kind of a budget travel but I had fun doing such thing. It challenges your ability to manage your budget and to adhere to what has been plan.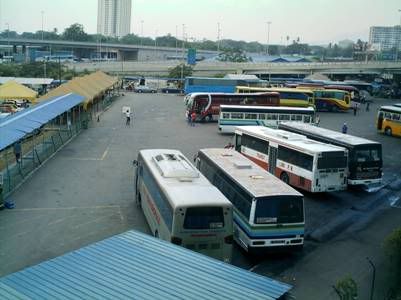 Travelling by bus is the cheapest and practical method of travelling. This picture was taken when I went to Butterworth, Seberang Perai, Pulau Pinang last July 2005.
Here a list of tips on going on a budget travel:
1.
Do your research first
. Determine the place, the fares of going there, the name of places, buy maps, get as many information as you can.
2.
Ask around
. If you get lost, don't be shy to ask people for directions.
3.
Be brave but be cool
. Don't show off when you're in other people's place. Be polite and be careful.
4.
Don't overspend
. Think first before spending on anything you may encounter.
5.
Be patience
. Travelling requires a great amount of patience, be cool.
It maybe fun to travel, however travelling with the one you love is more fun than traveling alone. Just travel and enjoy your life to the fullest.
posted by Encik Ash at 8/22/2005 04:43:00 pm


|