Merdeka Eve
If for some odd reason you arrived here to this blog and you are not from my country, 'Merdeka' also means 'independance Day'. You can search for this information elsewhere.
Here's my version of Merdeka. This picture was taken just ouitside of my office window and edited just before this entry were written. You can see a Putra LRT train passing by.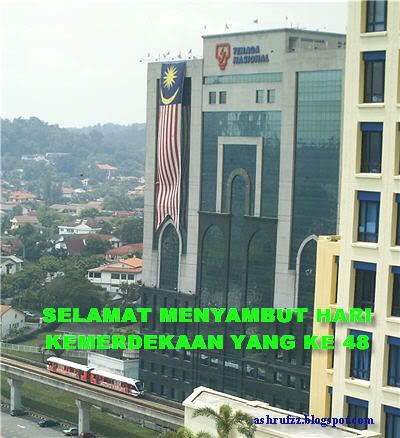 A friend of mine,
Hyrza
told in her blog to blog in Bahasa Malaysia (BM). I don't want to blog in BM as I speak BM most of my time in a day. I only speak English in special cases or in a meeting so I think I would rather blog in English as my practice.
In celebrating the celebration, there will be major gatherings in popular places. I am not a fan of crowded places, I'll go into a crowd of people if it is necessary or I just got bored of not meeting anyone. However, tonight I don't think I would be interested in attending these gatherings. Some people go there just to watch the beautiful and noisy firework. I simply see these firework from outside of my bedroom window a couple of times a year from a few chinese festivals every single year.
In the end, its your choice to whether or not go out there and have fun with your friends. Happy Merdeka Guys!