Kudos to the Xfresh team for adding some cool features. I enjoyed reading the reviews on the featured blog. Unless someone nominates my blog for reviews, I'll definitely not going to suggest my blog to be reviewed..haha..
The issue of unemployment amongst graduate is a buzz these days. I have personally been unemployed for a while and I know how does it feel as a jobless person. Lucky for me, I love reading and it has shifted my paradigm to become someone who is more progressive and productive. Frankly, I haven't yet tasted my reward for being progressive but I'll soon get there. One thing I've picked up during a seminar last weekend was
"I KNOW THAT"
are the three
most dangerous words in the English language!
Things to remember don't you think?
I went to MidValley for the Job & Career Fair last Friday and it dissapoint me because I didn't find what I was looking for. I was looking at some cheap one time courses but they were generally expensive though. However reading the newspaper yesterday, 3,000 people were offered jobs out of 80,000 who came. That's quite a good number for an uninteresting events..hehe..Still, the exposure was good.
Yesterday, I had this very important meeting with a big client. I representes my company by taking notes of what was being brought up. The office were huge and I'm glad I had the opportunity to go there. One of my favourite TV programme is 'Career Expose`' on NTV7, Sunday afternoon. Last week they showed about a career as an Operation Engineer. I am not in that profession but the company they were featuring was the company I went to yesterday. Sad thing about the programme is they are constantly featuring on big careers in big organization. In my opinion, it is easier to climb up a small corporation than a big one. That is what I am doing now. Normally what happen is, this can provide a slingshot to shoot for the top position in a big organization or you'll build your own empire more quickly if you were doing it from ground zero. In the end, the choice is yours..
Okay some tips on Investment. For those of you who read my blog long enough, you should know that I am a seminar junkies. So, last week thanks to the connection I have with a friend in my previous company I worked. I volunteered to help them in organizing a very educational event. The event if I were to pay is RM3000++ The theme that day was on Propery Investment: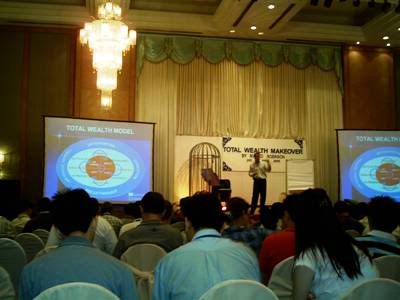 That is my former boss, a millionaire talking about success. He also brought his uncle, a property millionaire from England together with him. The seminar opened my eyes on how there are humongous opportunities here in Malaysia. Unfortunately, the conventional wisdom our school taught us blinded us from seeing that opportunity which is sad because we all could be wealthy. Did you know that you can buy 2 houses each for a man and a woman tax exempted before you get married? If you're married, you can only buy 2...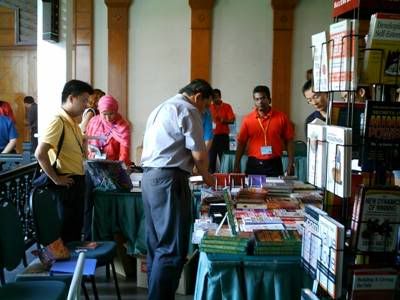 Now this is a booth outside of the seminar. It sells success books and materials. The success industry is a multi-million dollar industry and as usual, Donald Trump wants a piece of that pie. That is why he wrote a book. I also want that piece of pie but I need to find my own niche first which I haven't found it yet. I need to look harder then.
Well, that concludes my story for the day. Anyone has a piece of thought of what I've written, you're welcome to comment down below. I end my writings with another quote
"Leaners shall inherit the earth, while the learned will beautifully equipped to live in a woeld that no longer exists." ~ Eric Hoffer
. Have a good day everyone..